Why take life insurance? 

The principle

A life insurance allows both to transmit a capital to his relatives in the event of death, but also to constitute a saving and make it grow to realize life projects. To sum up, the biggest asset of life insurance is its ability to serve several purposes: succession, donation, insurance, retirement and of course remuneration. As a general rule, the policyholder defines the beneficiary (ies) of the life insurance who will have the capital and the annuity guaranteed under the life insurance policy in the event of the subscriber's death. Third parties appointed by the holder of the life insurance are not obliged to be kept informed, as no acceptance by them is required for the contract to be valid.
Why take life insurance? Advantages
 Its diversity

The diversity of life insurance is on several levels: its multiple goals, as we have just seen, but also on how to invest. With life insurance, it is possible to invest on bonds, stocks, gold or real estate while maintaining the same contract and the same funds. This is the principle of life insurance in units of account .
Why take life insurance in units of account? Not only to try to earn more but especially to define a risk profile and investment that suits you. For example, a person may decide to allocate their investments as follows:

55% of its capital on a secured fund
30% of its capital on a balanced fund
15% of its capital on a riskier fund

Its security

With life insurance, you also have the choice of going on a totally guaranteed investment. This is the principle of the life insurance in euros . With this type of investment, the amount of your capital is guaranteed.
Why take life insurance in euros? To take no risks and receive attractive compensation. Life insurance in euros has become the preferred investment of the French in 2015.

Taxation
The taxation of a life insurance is very advantageous for several reasons.
Taxation in the context of a buy-back policy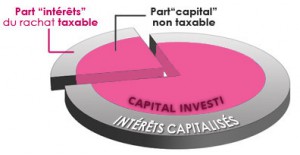 Why take life insurance because of its taxation? The taxation of life insurance is degressive over the years. For example, suppose your life insurance policy earns you € 1,000 interest and you want to withdraw it. How much will you be taxed if you apply the degressive scale? If the contract is between:
0 to 4 years, 35% of the interest is withdrawn, ie 350 €
4 to 8 years, 15% of the interest is withdrawn, ie 150 €
After 8 years, 7.5% except for capital gains exceeding the threshold of 4600 € for a single person or 9 200 € for a couple, ie 0 € in our example. Interest is therefore exempt from tax!
In all cases, social levies must be applied.
Now you understand why taking life insurance is advantageous, with such a system of tax degressive.
NB : You can opt to choose your income tax level if it is more interesting than the 35%, 15% and 7.5%.
Taxation of life insurance in the event of death
In the case of an estate, the sums received by the beneficiaries designated in the life insurance contract are exempt from inheritance tax. Why take life insurance, because it is a great way to manage a succession at lower tax burden!
               – In the case of payments made before the insured's 70th birthday
There is no taxation up to € 152,500 per beneficiary, beyond which a flat rate tax of 20% is applied. Since July 1, 2014, a flat tax rate of 31.25% is applied in excess of € 700,000.
               – In the case of payments made after the insured's 70th birthday
All contracts with capitalized capital gains of less than € 30,500 are exempt from inheritance tax. Beyond that, interest is subject to inheritance tax.
In both cases, it is necessary to know that the products are subject to the social levies but to manage a succession, one understands better why to take a life insurance.
      4. His remuneration
Even if taxable, life insurance is more remunerative than a non-taxed savings account, provided you choose the best life insurance. So why take life insurance? To win more, here is the proof:
Take the best life insurance in 2015 in euros (to take a totally comparable risk-free product): Fortunéo life insurance according to our classification with a remuneration of 3.85% observed in 2014 and the cheapest management fees on the market limited to 0, 60%.
Compared to the regulated book that offers the best remuneration (that of LEP, savings booklet, for  example that of Société Générale ) proposing a rate of 1.50% exempt from taxation, Life insurance remains better with an equivalent net rate of 1.60% (after applying 35% tax + 15.5% payroll taxes)
      5. Its complementarity with other savings solutions
Life insurance is a good complement to regulated booklets such as Livret A, LDD or tax booklets. Indeed, the booklet makes it possible to constitute a saving of precaution and to be able to face various unexpected due to the immediate availability of its money in case of need. Although having a precautionary saving is a good thing, it is also important to have another saving that is sustainable in order to be able to carry out bigger projects in the future. Why take life insurance? It is less tempting to make withdrawals with life insurance because of the favorable conditions that it proposes in terms of its taxation. You will find the best booklets on our comparator:
► FIND THE BEST SAVINGS BOOKLET
      6. Availability of funds
Misconceptions about the availability of his money on life insurance circulate. The money invested in this type of support is not blocked for 8 years. What needs to be understood and especially remembered is that it is totally possible to make withdrawals before the deadline. The disadvantage of withdrawing money before the required date is at the level of capital gains, since it will be taxed .
Note: a partial purchase of his savings does not result in the closing of the contract. It is always possible to feed it without having to subscribe a new one.
      7. Freedom of payment
Why take life insurance? Because a holder has the advantage of being able to save when he wants to the desired amount. So why not take life insurance!